1113 Harlon Way Bel Air MD 21014
Alexander Necker
Proudly Presents
1113 Harlon Way
Bel Air MD 21014
Highlights
No HOA
33'x16' Deck with Retractable Awning
Stone Patio
Master Bedroom with Sitting Room
4 Bedrooms on 2nd Level
80 Gallon Hot Water Tank
So, So Convenient to Bel Air and 95
WHAT THE SELLER SAYS…
What Drew You to This House?
As a young couple we were looking for an upgrade from our Bel Air starter home. We knew we needed a bigger house. As life-long residents of Bel Air, we wanted to stay close to town with all of our extended family and remain in the same school district. With 4 full bedrooms on the upper level and a kitchen with breakfast nook that opened to a large sunken family room, plus the separate living room and dining room, we felt confident that this home would meet our needs for raising our sons and entertaining our family for a long time.
What upgrades have you made to enhance your home?
As it stood, this house was practically perfect for us. We replaced the kitchen counters with granite and added hardwood floors in the family room. We also added an enormous deck that runs the full length of the house. It measures 33'x16' and has a retractable awning. We are a big family of big people and all of us can dance on that deck all night long. There is a lovely stone patio with a ½ wall that is perfect for our bistro table where we drink our morning coffee. We have landscaped around the deck and have beautiful flowers in the summer.
What are a few of your favorite features?
Number 1, we would say, is the overall spaciousness of the house. The rooms are large with 9' ceilings and lots of windows with light cascading in from all sides at some point during the day. As we mentioned, we have a big family and because of the overall size of the main level, our home is Party Central. We always host Thanksgiving and Christmas Eve and we can't even begin to count the number barbecues we have in the summer.
And speaking of spaciousness, the master bedroom is a real retreat for us. The room is large with a vaulted ceiling plus a sitting room. Our master bathroom has a double vanity and a separate shower as well as a soaking tub (that looks as new as the day we bought the house). When we want to get away from all of the noise of teenagers, this is where we go. And the builder didn't skimp on the size of the other 3 bedrooms to make a large master suite. All of the upstairs rooms are large with big closets.
We also have to mention that the layout of the back of the house is perfect for casual entertaining and daily family living. The breakfast room opens to the kitchen and the kitchen is separated from the family room by a ½ wall. When we are cooking in the kitchen we can be part of what is happening in the family room. This layout was perfect when our children were little, and we needed to keep an eye on them and get dinner on the table at the same time. The family room opens to the back deck with a French door and, as noted before, this is where we hold our dance parties.
What else do you like about living in area?
We love living in Bel Air. Our home is located minutes from town and over the 28 years we have lived here we have participated in almost everything this great community has to offer. We attend nearby St. Margaret's Church, First Fridays in Bel Air, the Bel Air Barbeque Bash, and Thursday's Ladies Night Out. We enjoy the 4th of July Celebration in Bel Air and the Christmas parade. For our workouts we have belonged to the Arena Club or the Bel Air Athletic Club. One of our favorite activities is to attend the Susquehanna Symphony Concerts which are held at Bel Air High School or in the Town Park. This is a volunteer Orchestra and is as good as any symphony we have ever heard. Bel Air has a small-town feel - cute shops, independently owned eateries, 150-year-old churches, and a very active recreation council for both adults and children activities. Oh, and the Bel Air Library – there are lots of events for adults and children; it is very much a hub of the community. Move to Bel Air! Literally, there is something for everyone here.
What are a few things you like about your community?
Our home is located in the community of Hampton Ridge. We have a very active community association. The association sponsors a Block Party and an Easter Egg Hunt. For the socially minded there is a Ladies Bunco Group and neighbors host progressive dinners. Santa visits our neighborhood in a fire truck around Christmas. One really nice aspect of this particular community is that it consists of single family homes only, no townhouses – this means our community is not as densely populated and therefore quieter with less traffic. But we are still just minutes from Bel Air and just 15 minutes from 95.
Where do you eat and shop for groceries and other conveniences?
The closest grocery store is Safeway but we also grocery shop at the Giant, Wegman's, Redner's, and Shoppe Rite. It just depends on where we're driving, and which flier has the best weekly sale.
If you know anything about Bel Air, then you know that about 80% of the national chains are in the area. But we support the independently owned establishments such as Pairings Bistro with its Belgian influence, international wines, and music on the patio. If you like craft beer try Independent Brewing with food trucks parked on the premises. And if you are looking for ice cream head right over to Broom's Blooms. Their ice cream is homemade. You can sit outside at picnic tables and listen to music on a summer night.
What more would you like to tell us about living here?
As we look back on all that we have said in this interview about our home on Harlon Way, we see how happy and fulfilled we were living in this house in this community. This is a really nice neighborhood with kids and people walking their dogs. Our home is roomy but still retains a cozy feel. We have many happy recollections of our time living here and we feel confident that the new owners will make some great memories of their own.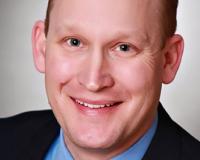 Author:
Alexander Necker
Phone:
410-920-4760
Dated:
May 18th 2018
Views:
1,457
About Alexander: ...