4444 Bucks School House Road
Alexander Necker
Proudly Presents
4444 Bucks School House Road
Baltimore MD 21237
Highlights
New Roof 2017
New Gas Furnace 2016
415 Square Foot Great Room with Vaulted Beamed Ceiling
First Floor Office
3 Bedrooms on the Main Level
In-Law Suite
Hardwood Floors
Custom Hardscaping and Landscaping
Multi-level Maintenance-Free Deck
To see get all the pictures and the price click here
Multi-Level Maintenance-Free Deck
WHAT THE SELLER SAYS....
What Drew You to This House?
As a young couple, we were looking for our first home together. This 3-bedroom rancher with hardwood floors throughout suited our needs perfectly. It was situated near I-95 which was a bonus because we traveled in opposite directions for work. Having grown up in Baltimore City, we were enamored with a house on a 1-acre lot. It was as if we could have the best of both worlds - quiet country living but close to conveniences and easy access to major roads.
The house was ideal for expansion. We envisioned starting and raising a family here. The backyard was very private, with a cleared area, and then a little forest. Maybe we could build a treehouse for our future children? But first… we needed a wedding. So, we bought the house, planned a garden wedding, and all of our family and friends came to 4444 Bucks School House Road to witness the beginning of our new life together.
What upgrades have you made to enhance your home?
We really got a kick out of improving our house. We just made it bigger and bigger over the years. First, we added a 2-car garage and expanded the living room into the former garage. Skylights were added to the living room. The living room wall was covered with exposed brick so that a free-standing fireplace could be used. The driveway was expanded to accommodate 6 cars.
After our second child arrived, that we decided to tackle an even bigger project. A 2-story addition was added onto the back of the house, for a total of 830 square feet of new living space. The back wall of the kitchen was removed and a 415 square foot Great Room with a raised ceiling was built. We used 200-year old barn siding to line the ceiling and 4 hand-hewn beams were hoisted up to support the roof. The kitchen opens right into the Great Room and the Great Room flows out onto the multi-level deck. Downstairs, a master or in-law suite was created with a full bath and a walk-in closet. There is a lovely window in the stairwell that really enhances the overall look of this addition. This big room is perfect for entertaining our family and friends.
Our next project was to take our standard builder's rancher and boost the curb appeal. The front porch was extended and the brick was substituted for the concrete. The siding was replaced and a stone front added. As the final part of this project, we designed landscaping and a curved stone walkway to create privacy for the front entrance. We sit on the shady front porch on summer mornings with coffee and chat.
For our final major project, the existing deck was replaced with a multi-level, completely maintenance-free deck. The deck drops off onto a patio and we can walk down the stone steps into the yard and gardens. A 25-foot granite retaining wall was built that adds a very unique and impressive dimension to the backyard.
We have also remodeled the kitchen to include granite counters, recessed lights, and new appliances. In 2016 we converted from oil heat to a gas furnace and replaced the hot water tank. In 2017 we replaced the roof with architectural shingles.
We have been so successful at turning our starter home into our dream home, our friends are constantly asking us for design advice.
What are a few of your favorite features?
For us, we have 3 top favorites. Number 1 is the deck. We spend a lot of time on the deck in the warmer months. The deck is shaded in the evening and it is perfect for grilling and dining al fresco. It is very private out back and we cannot see any of our neighbors' houses; we just see our garden in the sun and into the woods. When our children were young, they would play in the treehouse (yes, we built that treehouse for them) and we could relax on the deck and still keep an eye on them.

Next is the Great Room with its high ceiling covered in barn siding and the deep window trim and high baseboards. The room is very spacious and grand.
We have a big bay window in the living room. While everyone is being noisy in the back of the house, we read on the sofa and, just like a cat, bask in the sunshine than flows through that big window.
What else do you like about living in area?
We live in a great location. It's within 5 minutes of White Marsh Mall and The Avenue, so if you like to shop or go to the movies, it couldn't be more convenient. But, our home is well-removed from all of that hustle and bustle.
Right down road is the Pine Valley Swim and Tennis Club. If one is so inclined, it is within walking distance. We are both avid tennis players and also play in the Winter Platform Tennis league. Both of our children worked at the swim club in the summers in their teens.
This part of Baltimore County is very centrally located. Proximately to 695 (less than 3 minutes) and I-95 (less than 5 minutes) remained an important reason to stay in this house. We are only 20 minutes from downtown Baltimore and Towson.
What are a few things you like about your community?
There are lots of activities in this area for both singles and families. The numerous Baltimore County Recreation Councils in the area meant our children could participate in lacrosse, soccer, baseball, roller skating, and dance, to name a few. There are exercise and yoga classes near-by and Merritt Club is only 5 minutes away.
Over the last few years great recreational opportunities have opened – Urban Air with trampolines, ClimbZone for rock climbing, IFly for indoor sky-diving, and the Ice Rink on The Avenue. There are many parks for the little ones, such as Angel Park in Perry Hall, and 2 great libraries. And the best thing about all of this is that we can enjoy living in a peaceful area and all of this fun, busy stuff is just a short drive away.
Where do you eat and shop for groceries and other conveniences?
We only need to drive a few minutes to the Giant for groceries or we can head to the recently-opened Weis in the same area. One of our favorite places for groceries is Mom's Organic Market, right on Campbell Boulevard – go there for the apples and the sustainable seafood. And right by Mom's is the Canton Car Wash. They take washing your vehicle to a whole new level.
Name a restaurant food chain, either fast food or slow food, and you will find it within this area. But our favorites are always the locally owned restaurants such as Red Brick Station (order the seafood club sandwich) and Lib's Grill on HoneyGo Boulevard (don't miss the roasted Asian Brussel Sprouts).
What more would you like to tell us about living here?
As we look back on all that we have said in this interview about our home on Bucks School House Road, we see how happy and fulfilled we were living in this house in this community. Over the years the area has grown, with new homes and new businesses, but we have been lucky enough to retain the privacy afforded by our unique 1-acre lot in the midst of all of this suburban living. Our children had a great time sledding down the hill in the back yard or finding some treasure in the woods. The custom landscaping and hardscaping, the sun and shade gardens, the big playroom in the basement – this house so much to offer. We have many happy recollections of our time living here and we feel confident that the new owners will make great new memories of their own.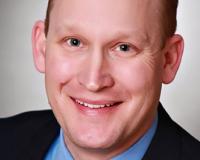 Author:
Alexander Necker
Phone:
410-920-4760
Dated:
March 4th 2018
Views:
659
About Alexander: ...